Unmanned Autonomous Vehicles (UAVs) represent an emerging area of research that provide the capacity for real-time airborne remote sensing of the terrestrial surface. Members of the Hydrology and Land Observation​ (HALO) group recently returned from the Northumberland region of the United Kingdom where they undertook a course in the hands-on flying of these systems, in addition to learning techniques for data collection, monitoring and analysis.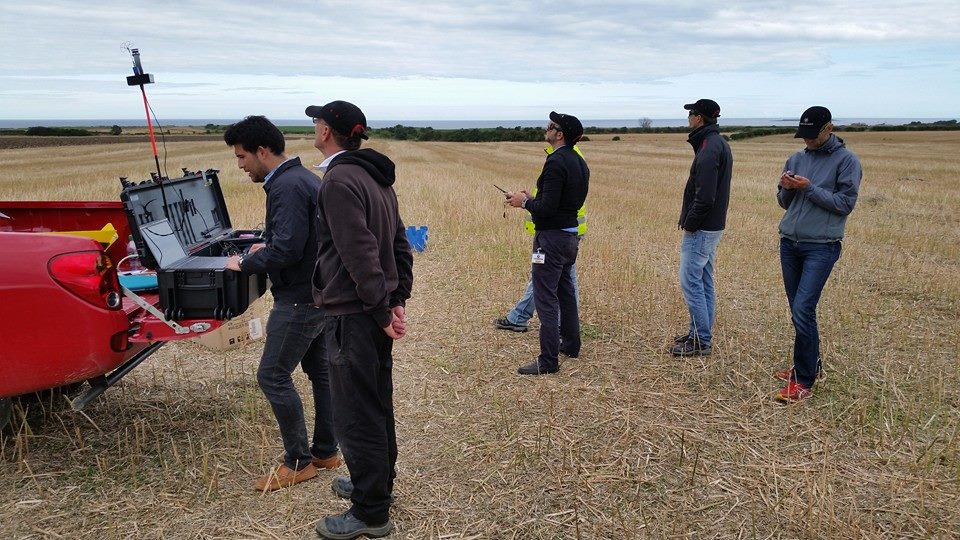 L-R. Jorge (acting as Commander), Tony (QUEST), Samir (acting as Pilot), Mark (QUEST), Luca and Rasmus participating in training on the last day at Amble, UK.
The HALO team will soon take delivery of a custom designed QUESTUAV package for airborne remote sensing, providing the team with access to high-resolution visible, thermal and multi-spectral data for Earth system studies. The HALO team have plans for a range of field based experiments using these sensors, including the retrieval of vegetation function and health, evapotranspiration and heat-flux monitoring, as well as mapping of landscape features and geomorphological elements. With the addition of two quadcopter solutions for enhanced remote mapping and data collection (including the capacity for 3D surface retrieval) that will be developed and delivered by KAUST start-up FalconVIZ, the HALO group are well placed to make significant advances in this exciting research area.
(L) Matthew McCabe and Rasmus Houborg inspect the UAV and undertake pre-flight checks prior to launch (top-R) and after landing (bottom-R)
Some videos of take-off and flight preparation are included below.